Are You Looking For Willis HVAC Contractors Today?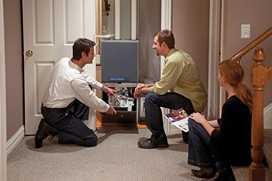 ComfortPro Solutions is your "turn-key" comfort solutions provider. From hard to solve comfort problems to "MY AIR IS NOT WORKING!", we have the experience and ability to handle virtually any comfort problem in your home or business.
Here in South-east Texas there is an air-conditioning contractor on almost every corner. But just because someone "works" on air conditioners in Willis doesn't mean they can fix every problem or even has the experience to do the job right.
ComfortPro Solutions – Willis Air Conditioning
You can feel confident that when you trust ComfortPro Solutions to handle your Willis air conditioning concerns, you are getting the best products and service available in the industry. With lifetime equipment and extended labor warranties, our COMFORT CLUB and factory trained Willis technicians provide air conditioning services such as ac repairs, ac installation, central air conditioning, air conditioner maintenance and indoor air quality solutions in Willis.
Willis Heating Installation
From "Hard to solve problems" to "ComfortPro Luxury", we make sure we use the newest innovations to help make your life easier. Using the latest technology we help keep you in the driver seat and your Willis home unbelievably comfortable. We also provide 24/7 emergency services for all your Willis heating repair or installation needs. We also offer:
Furnace Installation
Gas Furnaces
Electric Furnaces
Heat Pumps Installations
Heating Installation
HVAC Repair
HVAC Maintenance
Heating Repair & Installation
Commercial Heating
Furnace Replacement
Heat Pumps
New Installations
Willis Air Cleaners
It is said that air purifiers are programmed to eliminate harmful particles and filter air pollutants inside the building especially if the building has been there for decades. It doesn't mean that a room is safe because it is fully air conditioned. Dust often accumulates in closed areas, thus the interior of a building must be aired regularly. Vacuum air cleaners in Willis are the first recourse that are often used at home and other working places though it is not a 100% guarantee that it could totally eradicate smaller dust particles and molds. This is the reason why many still opt to purchase air purifiers to at least improve their living condition particularly in urban places where air pollution can be inhaled almost anywhere. There are different types of air cleaner processors that you can find online. Make sure that you got the right one because you might be buying the substandard kind of air processors. Take note that no air filters can get rid of molds inside your house so the best thing for you to do is to inspect your flooring for any cracks and leaks. Your floor carpets are good grounds for molds, as well as dust mites. Damp areas due to faulty plumbing connections that emit stale air inside the wash rooms could be a contributory factor that could lead to health problems.
We Provide The Following HVAC Services in Willis, Texas
Recent Articles
If you are looking for Willis heating and cooling experts then please call (281) 936-9776 or complete our online request form.