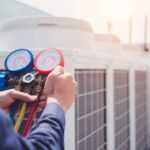 How do we help homeowners in the Huntsville, Texas area? Generally speaking, our teams know the value of customer service and high-quality work. It's a relief for property owners to call us on the phone and ask us to come out for a home improvement job – because they know who they're getting out there, and what they're getting. Don't forget to ask about our "No Breakdown Guarantee" Maintenance program where we help loyal customers to rest easy about their systems!
Here are some of the key services we provide for residents in Huntsville and nearby Montgomery County, and out in places like Conroe and Panorama Village, and even out in the Houston metro area.
Whole House Air Purifiers
Indoor air quality is a major concern for many homeowners – you have the usual suspects of mold, mildew, and various particulates, and other kinds of specific issues that can aggravate allergies or contribute to other health conditions.
Whole house purifiers bring a comprehensive approach to the problem, and deliver a unified solution. We look carefully at airflow through the entire building to fine-tune our systems to handle the long-term demands that are put on them.
It's all part of serving our customer base well, and our whole house air purifier installation service is popular with households that want to improve their quality of life in a home with a full-scale system.
Radiant Barriers and Reflective Insulation
We know that heat rises – and many property owners have seen firsthand how a lot of treated air can be lost through an attic or roof space.
To that end, we help residents upgrade to radiant barriers and reflective types of insulation that can hold heat and greatly reduce energy bills for a property. Whether it's a home or an investment property, we can help consult on energy savings and how to install the best solution.
Heating and Cooling Maintenance and Repair
New matter what type of heating and cooling system you have, it works hard in the summer and winter. There are a large number of parts that may wear out and need replacing at any given time. It's also important to maintain a system well to decrease the chances of a major heating or cooling catastrophe. Our "No Breakdown Guarantee" Maintenance program is an easy way to cover all your bases for a hot or cold season.
Texas summers are hard on HVAC systems – get help from a professional firm that understands the importance of regular maintenance as well as quick and effective repair.
These are some of the key services that we provide to Huntsville and Montgomery County residents all over our service area in the Houston, TX region. At Comfort Pro, we offer attic ventilation, air sealing and more – take a look online to see how our customers have greatly enjoyed having a trusted and professional response for their home improvement needs. In Texas or anywhere else, it's important to have good firms in your rolodex – bookmark us for next time you need help and ask about our "No Breakdown Guarantee" Maintenance program!