Montgomery County HVAC Contractors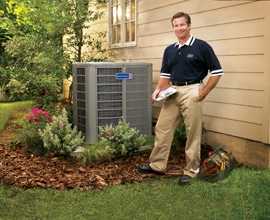 ComfortPro Solutions is your "turn-key" comfort solutions provider. From hard to solve comfort problems to "MY AIR IS NOT WORKING!", we have the experience and ability to handle virtually any comfort problem in your home or business. But just because someone "works" on air conditioners in Montgomery County doesn't mean they can fix every problem or even has the experience to do the job right. Our hot, humid climate requires that someone not only know how to change parts, but why a system can act a certain way and the BEST solution for the problem. Most-likely its NOT "a bigger system".
ComfortPro Solutions – Montgomery County Air Conditioning
Our HVAC contractors in Montgomery County can install and repair your home's heating and cooling systems as well as help to maintain them by providing the best services in the industry. We offer outstanding customized service from the beginning of your call to the Montgomery County project completion. From the moment you call on us until we leave your Montgomery County home, you will be receiving only the best in customer service as well as some of the best warranties in the business.
Montgomery County Humidifiers
You need a Montgomery County indoor air solution that will help transform even the worst indoor air quality into healthy, clean air for your families comfort and your peace of mind. Your home comfort is not only dependent upon your Montgomery County HVAC system, but also the indoor environment of your home. High performance comes from the correctly designed and installed systems that complement each other and work together to service your home. Our HVAC contractors will set up your systems and back them with one of the best warranties in the industry. We also provide:
Humidifier
Room Humidifier
Humidifier Installation
Quality Humidifiers
Indoor Air Quality
Furnace Humidifier
Humidifier Repairs
Richmond Humidifiers
Air Humidifier
Home Humidifier
Air Humidifiers
House Humidifier
Montgomery County Heating Thermostats
HVAC thermostats in Montgomery County are the devices that sense and regulate temperature within a specified area. If there is anything that you are most familiar with in any HVAC system, it is the thermostat since it is the one used to set temperature. It is the one piece of HVAC equipment that you can operate without fear.
Thermostats are easy to use and they should be as such. All that is needed is to set the temperature to your preferences and you're done. It will activate the other equipment involved in the HVAC system to do the cooling for you. What if you discover that it doesn't work? You'll notice that after trying to set it to the lowest setting possible, no cooling comes from the dampers. This is when you will need an evaluation of the thermostat itself and possibly the other items in your HVAC system to detect any problems. It is only with a trained and licensed professional that you can have an evaluation of this equipment without fear.
We Provide The Following HVAC Services in Montgomery County, Texas
Recent Articles
If you are looking for Montgomery County heating and cooling experts then please call (281) 936-9776 or complete our online request form.